Barot valley is a visually stunning place. The crispy sound of cold river water hitting the rocks. Bright sunshine playing hide and seek with cotton candy clouds. The feeling of quietness, being silent and being at with the surroundings. Majestic Deodhar trees standing tall surrounding you like a blanket giving you comfort. This is not a fable, but a reality sketched by nature itself in a small place known as Barot in the northern state of Himachal Pradesh.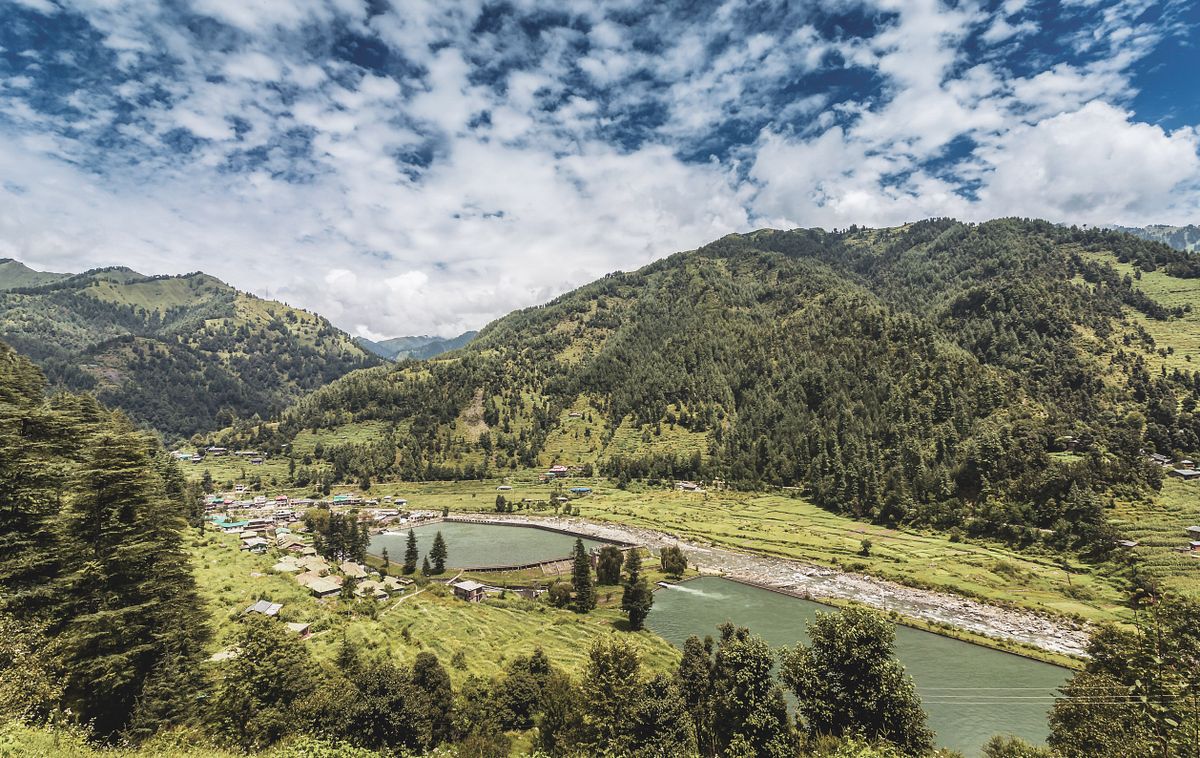 Barot valley is a classic case of mixed identity. On one hand, the place feels like heaven with Deodhars surrounding the valley accompanied by multi-hued terraced fields. On the other hand, during the summer season, the place becomes crowded with families from neighboring Punjab state and nearby districts of Himachal Pradesh. Barot has everything for everyone, outdoor activity enthusiasts, trekkers, family, laid-back personalities. You can find a few shops selling groceries and essentials. There are also a few medical shops, a couple of eateries, and a cooperative bank.
Lifestyle/Culture:
Despite the influx of foreign influences resulting from the tourism boom, locals still manage to keep their culture intact. One can easily come across men and women in their traditional attires. Do not feel surprised when you see a mountain woman carrying her child on her back, tied with a shawl.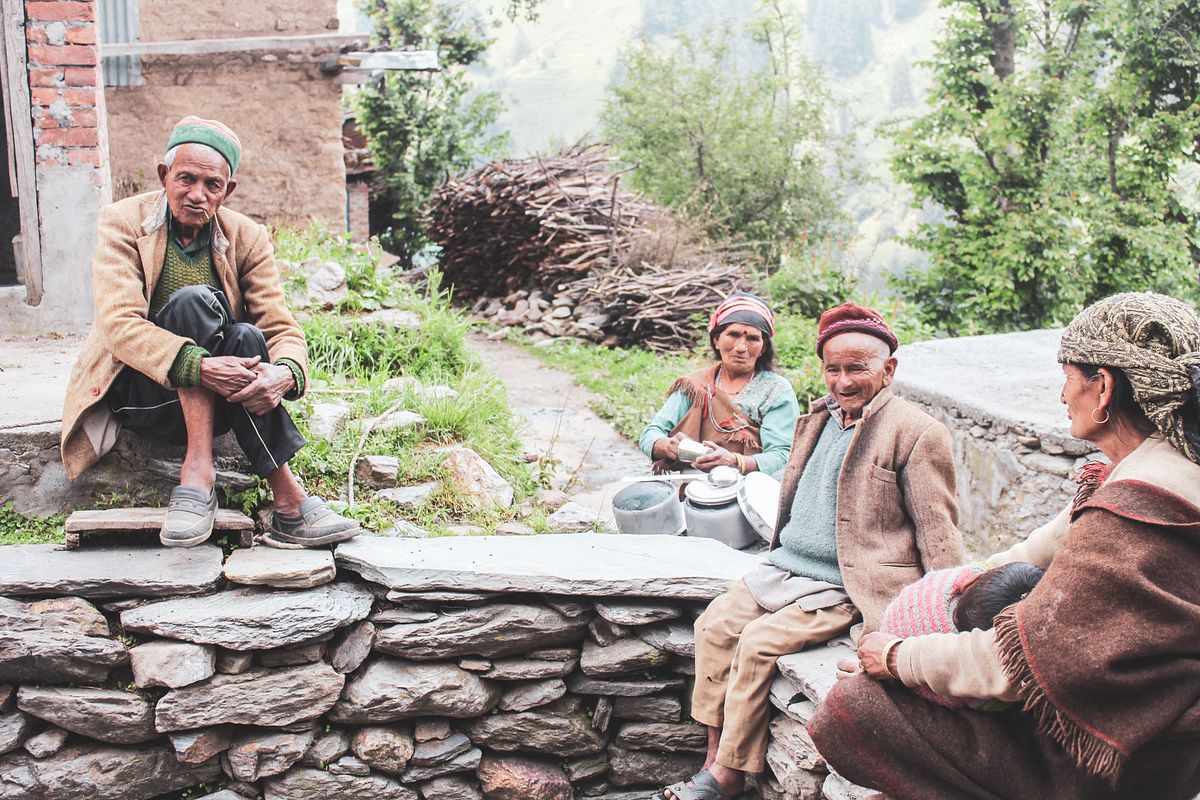 Villagers still prefer to live in their traditional skillfully crafted wooden homes. Domestication of animals is integral to village life. Villagers design their house in such a way that ground level shelter is for the animals. Experiencing such homes took me back to an old-world charm.

Activities to do:
There are many activities one can do but the real charm of the place is in doing nothing and soak in the surroundings. We are so used to working all the time that we forget that doing nothing sometimes is also an exercise, for the mind and the body.
Trout fishing: Very popular in the region. Fishing is legal with pre-conditions. A popular trout breeding center in the region.
Trek to nearby villages: Want to enjoy more deep-rooted cultural traditions of the mountain people? Just use your own legs and walk. Lohardi, Chota Naya Gaon, Bada Nayaa gaon are some of the nearby villages.
Register yourself at the Trout Farm Office Barot has turned into an attractive destination for anglers since the clear waters of the rivers are great for trout fishing.
Listen to the water: Nothing else, just sit by the riverside. Do nothing or read a book, or just simply close your eyes. Don't worry you will not drown if you respect the river. There are few spots on the riverside to engage in such calming activities. One of my favorite spots on the riverside can be seen below.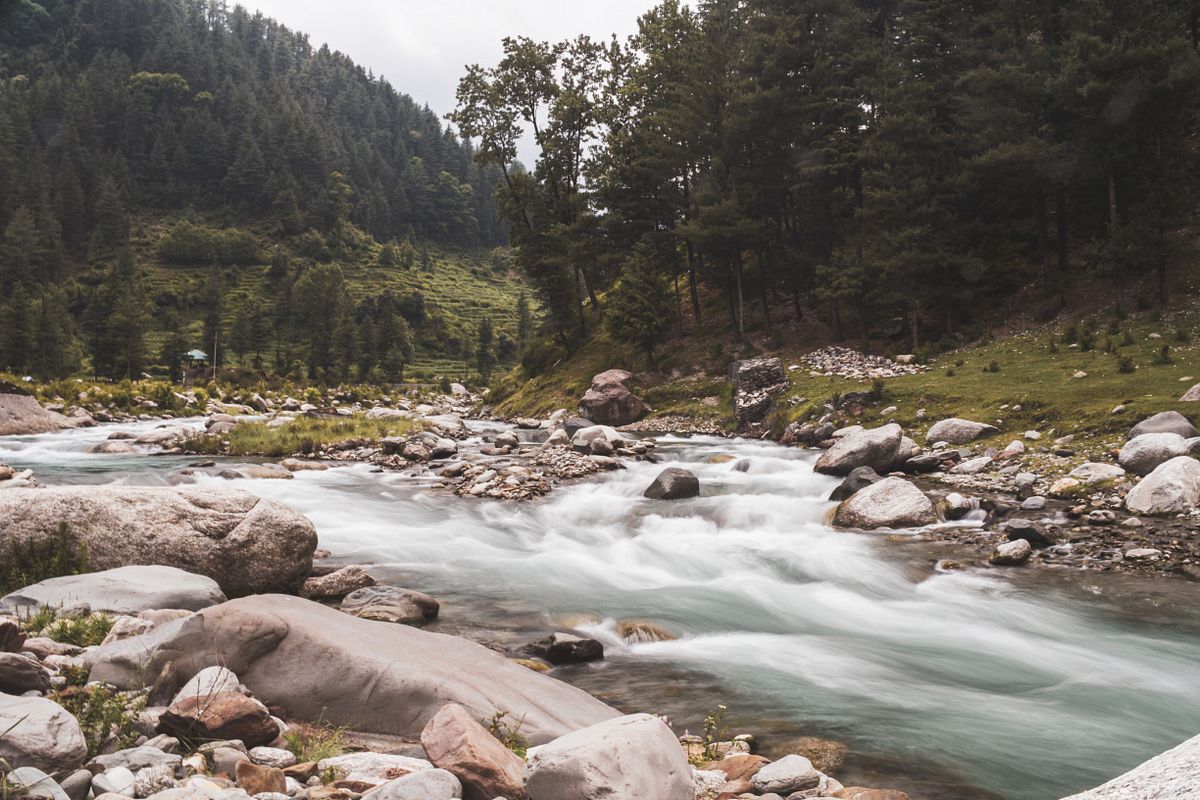 Yes, I have spent a countless number of hours by this river. Sometimes reading a book, just taking a nap or playing with small stones nearby.
Watch and play with school kids:

You will find government schools along the way as you trek and explore the place. No entry barriers, interact with the kids, laugh with them, play with them. Be a child again.
Paragliding: Not really in Barot but it can be experienced in Bir Billing. Bir is 2-hour drive from Barot en route to Joginder Nagar. The place is popularly known as the "Paragliding Capital of India". Bir Billing is also home to several Buddhist monasteries.
Random Hikes: Barot is a perfect place to unwind and do nothing. Just immerse yourself in the nature around you. Go on a hike, explore local villages and, if lucky, tag along with the shepherds.



Stay
Paul Home Stay. Although there are many homestays in Barot. I personally recommend PAUL'S HOMESTAY. Run by a retired man and his wife. The accommodation is clean, hygienic and has a fantastic view of the river Uhl. The place is a little away from the hustle and bustle of the small town. You can mention my name to receive personalized treatment.
*Always book in advance, difficult to get on the spot booking especially in peak season.
Owner: Jagannath Paul: 9418011980
Future of Barot:
Popular hill stations are under a lot of stress due to excessive, unbridled tourism. Come the weekend and the traffic rush is a sight to behold, much to the amusement of the locals. But it is a double-edged sword. On one side locals are earning money during the peak tourist season but on the other hand, tourists tend to spoil the place (knowingly or unknowingly).
Barot presents a rapidly changing landscape. More and more cottage-like modern houses are beginning to dot the landscape. Local youths prefer to wear tight jeans and whenever possible tend to avoid wearing the traditional Himachali cap. During functions, one is more likely to hear Punjabi or Bollywood soundtracks. Earlier it was only local folk songs. Barot is standing on the verge of becoming all touristy, signs are ominous.
How to Reach
Road:
Barot is well connected with Delhi, Chandigarh, Palampur. A plethora of options when it comes to buses.
Two types of buses ply from Delhi. Normal, VOLVO A.C buses. Every 30 minutes, a Haryana state roadways bus departs from New Delhi ISBT. A.C Volvo buses are less frequent and much in demand. Normal buses are as good as any, seats are wide enough with good leg room. and this is coming from a person with long legs. I personally prefer an overnight journey (spares you the traffic) on a regular bus.
Example: Board the bus at 4 pm from New Delhi ISBT, reach Baijnath early morning 4 am. From there take a local bus to Barot, or else hire a cab for another 2-3 hour of the journey. Cabs are easily available just outside the Baijnath bus stand.
Car/Taxi: If money is not a constraint, then you can easily hire a cab or go in your own car.
Train:
Narrow gauge railway line. Joginder Nagar is the closest station. From Joginder Nagar you need to take a local bus to Barot
Air:
The closest airport is Gaggal near Dharamshala. 90km approx. from Barot. Dharamshala, headquarter of H.H Dalai Lama is well-connected to Delhi, Chandigarh.



Season
Summer in Barot is pleasantly cool with temperatures in the range of 18-25°C. You can feel life in every element of nature in Barot during the summer season. The music of river the Uhl is mesmerizing enough to steal your heart away.
Winters can be quite cold, and the mercury often dips to a negative degree making it uncomfortable for those unused to cold weather.
Best Time to Visit
Summer months from March onwards till June would be the best time to enjoy the fresh air of the surroundings. The village and its surrounding areas are bursting with energy during the summer period. Although the place becomes mystical during monsoons and harsh winter. Take your pick.